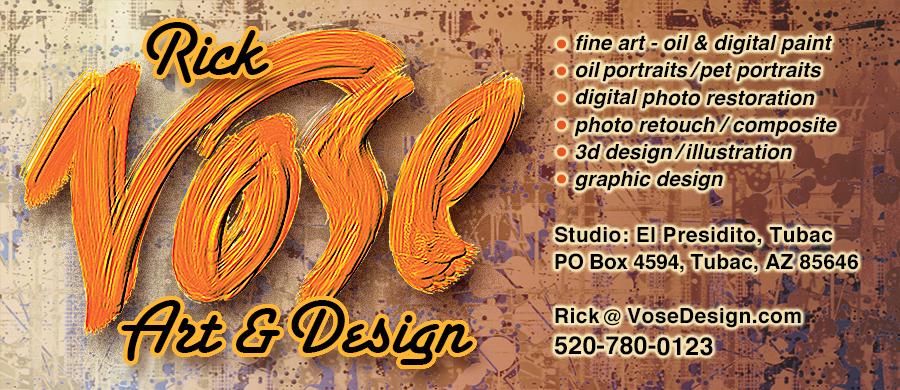 Our little family venture, Rick Vose Art & Design, is located in the small historic southern Arizona "artists colony" of Tubac, the oldest "European" settlement in the state and home to Arizona's oldest state park, The Presidio State Historic Park. We often wonder what it was like during the times when 'ol Geronimo and crew harassed and scared the bigeezees out of everybody in our area.
We work in both traditional oil media and digital media, using such software stalwarts as the Adobe Creative Suite, Corel Painter and Strata Design 3D. Therefore, we're able to create a very diverse body of work, of which the digital creations are output to our giclee printer on artists canvas. We use only archival inks and media to ensure high quality and longevity in our digital products.
We process our customers orders promptly (but don't confuse our shipping capabilities with Amazon.com Prime) and strive to ensure that our customers are satisfied with their purchase after the sale. We market the results of our efforts to the online community in hopes of building a following of enthusiastic clientele and we hope to see you here often so that you remain aware of our latest creations.
Thanks for giving us a look…
The Vose gang… Rick (artist/designer), Lonnie (tech wizard), Marsha (moral support) and our beloved Ellie (cairn terrier mascot)